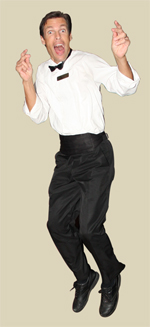 You say "Jump", I say "How High"
.
Why my prices for
DJ services San Diego
are so affordable? I love what I do, and I am a firm believer in "quality for less". I believe service workers should give more and ask for less. Don't buy into the saying "You get what you pay for". In my case, you get allot more.
.
I carry all types of music for your wedding and special event. On average, approx. 12-15 songs per hour can be played. Check out some suggestions by clicking the song tabs above.
.
I am happy to provide references of my past wedding events or other special occasions. I also invite you to see me in action at my next special event in San Diego.
.
Reaching your vendors when you need to is a very important but an often over-looked criteria when hiring. I am always available live by phone or email when you need to reach me. Try me. 619-733-9414, or
send me an email!
In addition, try contacting each of your hired professional vendors a week before your special day to give you some peace of mind and verify you are all on the same page.
.
I will be your DJ at your event or wedding providing personalized DJ service. In the extreme case I were to ever become ill or injured, I have several mobile DJs who are at a short notice call. By the way, I have been a mobile music DJ and
San Diego wedding DJ
for over 15 years and never missed an event.
.
I don't charge any travel fees if your event is within San Diego County.
.I offer a written contract with only a $75.00 retainer fee to secure your date. The remaining balance is paid the day of event by check, cash, or money order. In addition, I also carry 2 million dollars worth of liability insurance and will name whatever venue/location the event is held at as an additionally insured.
.
I normally wear a white tux shirt with black pants, shoes, bow tie and cumber-bun to each event unless specified another type theme.
.
I bring two full DJ systems with me to each event. Each system is made for professional use and built by commercial audio companies: QSC, Shure, Audio Technica, Dennon, Yamaha, Dell, Stanton. View DJ equipment.
.
My complimentary dance floor lighting is usually enough for your San Diego event.
View lights.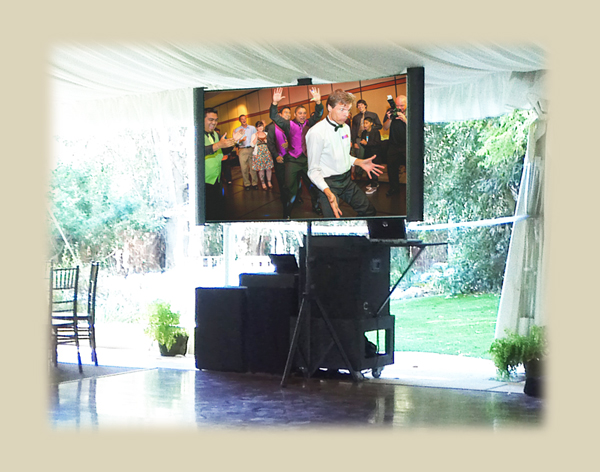 As you can see, I got more moves than a U-Haul
.
I
can provide a new Epson projector and screen, as seen in picture, for an additional $100. I'll do all the connections of video and audio of your video-slideshow into my DJ system during your event to allow for better viewing and hearing among your guests.
.
Music for outdoor ceremonies, receptions and parties at a park or state beach with no available electricity is no problem. I have battery operated gear, and if necessary, bring a portable, super-quiet Yamaha inverter to power all my needs.
.
I routinely make informative announcements ahead of time during your event such as asking guests to turn off their cell phones before the ceremony or sign the guest book, or coordinate the next special event coming up, so it will k
eep the event running smoothly and inform the guests to know what's next.
.
Getting an entire group photo of your guests at your event is always a precious keepsake for years to come.
.
If you are looking for a variety of vendors with reasonable prices and extraordinary service for your wedding or special event, please click here to see
Preferred Vendors.
619-733-9414